Please Login
<< You will need to login to register for BHS training events and online courses.
Here you will find both online classroom based training opportunities hosted by Behavioral Health Springboard. Please use the tabs to navigate to the different training types below.
Continuing Education Key:
| | |
| --- | --- |
| ASWB ACE = | Association of Social Work Boards Approved Continuing Education |
| NBCC ACEP = | National Board for Certified Counselors Approved Continuing Education Provider |
| NCCPSS = | North Carolina Certified Peer Support Specialists |
| NCSAPPB = | North Carolina Substance Abuse Professional Practice Board |
Please check back as more trainings are being planned.
Building Bridges Kick-Off Training Monday, April 8, 2019
Description:
This one-day kick-off training in the national Building Bridges framework for improving long term outcomes of children served in child residential care starts a multiple year learning experience that also includes webinars and other technical assistance. This one-day didactic and experiential training is provided by senior clinical and administrative leaders who have done this work, mentored, taught, and helped many other organizations achieve sustained positive outcomes for youth served in residential programs.
Target Audience:
Key staff with authority and capacity to effect organizational culture change from Psychiatric Residential Treatment Facilities, Child Facility Based Crisis Services, and State Child/Adolescent Inpatient Units. Key staff to include CEO, and leaders within nursing, social work, education, and direct care staff.
NC Six Core Strategy State Leadership Team including family/youth advocates
LME-MCO representatives
Registration and Details:
Please visit the Building Bridges Intiative group page, click here.
NC Sports Gambling and Gaming Summit: Treatment and Prevention for Problem Gambling 03/08/2019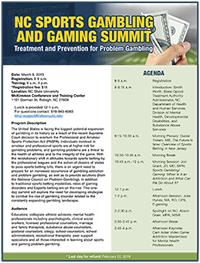 The United States is facing the biggest potential expansion of gambling in its history as a result of the recent Supreme Court decision to overturn the Professional and Amateur Sports Protection Act (PASPA). Individuals involved in amateur and professional sports are at higher risk for gambling problems, and gambling problems are a threat to the health of athletes and to the integrity of the game. With the revolutionary shift in attitudes towards sports betting by the professional leagues and the action of dozens of states to pass sports betting bills, there is an urgent need to prepare for an increased occurrence of gambling addiction and problem gambling, as well as to provide solutions (from the National Council on Problem Gambling). In addition to traditional sports betting modalities, rates of gaming disorders and Esports betting are on the rise. This one-day summit will explore the need for developing strategies to combat the rise of gambling disorder related to the constantly expanding gambling landscape.
Continuing Education Key:
| | |
| --- | --- |
| ASWB ACE = | Association of Social Work Boards Approved Continuing Education |
| NBCC ACEP = | National Board for Certified Counselors Approved Continuing Education Provider |
| NCCPSS = | North Carolina Certified Peer Support Specialists |
| NCSAPPB = | North Carolina Substance Abuse Professional Practice Board |