Are you SSW Alum or current SSW Field Education Instructor? Click here and ask about the Alumni Coupon Code. Apply this coupon code in the checkout page and receive your discount to any of the sessions.
Complete Series Discount - add all five sessions to your cart and receive an automatic discount at checkout time.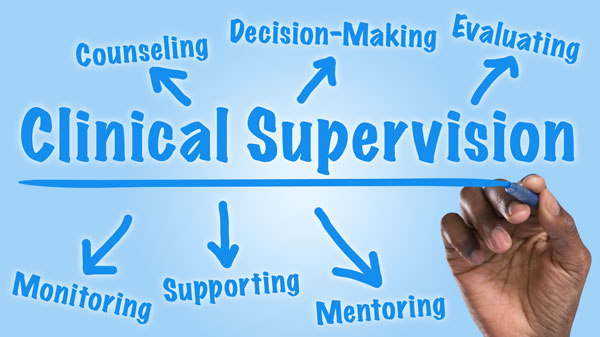 2019 Clinical Supervision Series is Now Open.
The increasing complexities of treating substance use disorders generates a high demand for qualified clinicians and clinical supervisors. Join us for a five-part series of clinical supervision as we explore a wide variety of topics central to successful supervision. Expect an informative, useful, and unusually fresh experience while you gain the knowledge, skills, and continuing education hours necessary to propel your career forward.
TARGET AUDIENCE
This course is designed for Licensed Clinical Addictions Specialists interested in examining and enhancing their skills as a clinical supervisor. In the past many participants have fallen into one of three categories: 1) seeking to obtain their Certified Clinical Supervisor status, 2) seeking to renew their CSS status, or 3) relative newcomer to supervision and wish to learn more about this important clinical function. This is a shared learning environment; come one, come all.
CONTINUING EDUCATION
Each session fulfills 6 hours of required training toward the Certified Clinical Supervisor credential with the North Carolina Substance Abuse Professional Practice Board.
The UNC Chapel Hill School of Social Work has been approved by NBCC as an Approved Continuing Education Provider, ACEP No. 6642. Programs that do not qualify for NBCC credit are clearly identified. The UNC Chapel Hill School of Social Work is solely responsible for all aspects of the programs. 6 contact hours
The University of North Carolina at Chapel Hill School of Social Work, #1406, is approved as a provider for social work continuing education by the Association of Social Work Boards (ASWB) www.aswb.org (link is external), through the Approved Continuing Education (ACE) program. The University of North Carolina at Chapel Hill School of Social Work maintains responsibility for the program. ASWB Approval Period: 08/10/2016 – 08/10/2019. Social workers should contact their regulatory board to determine course approval for continuing education credits. Social workers participating in this intermediate level course will receive 6 clinical continuing education clock hours.
Each session has been approved for 6 hours of Clinical Supervision Specific credit from the North Carolina Substance Abuse Professional Practice Board. Attendance of the full series fulfills the NCSAPPB 30 hour Clinical Supervision training requirement and attendance of three of the courses fulfills the 15 hour recertification requirement. Approval #s for the sessions are as follows:
Advancing Clinical Leadership: 18-037-S
Theories & Models of Clinical Supervision: 18-038-S
Ethics, Risk Management, and Self-Care in Clinical Supervision: 18-039-S
Competencies of Clinical Supervision and Technology-Based Supervision: 18-040-S and 17-409-S
Evidence-Based Practices and Treatment Outcomes: 18-041-S
Confirmation Notices and Certificates of Completion: We will confirm your registration by email after payment is received. Successful completion includes full attendance for the entire day. Within 7 days of the conclusion of the event, you will receive an email notifying you that the evaluations and certificates are ready. The email will include a link to https://bhs.unc.edu where you can login using the username and password you chose at registration. Once you have logged in, you will see the training titles listed under "My Courses" on the left side. After clicking on the link, you will be taken to another page where you can click the link to the event evaluation. Once you have completed and submitted your evaluation, you can click on the link to access the Certificate of Completion. Your Certificate will emailed to you as a PDF document.
POLICIES & ADA STATEMENT
Refund Policy: Refunds may be issued up to 14 days prior to the event by contacting:
bhrp-support@listserv.unc.edu
Inclement Weather Policy: Any announcements regarding changes to the schedule due to inclement weather will be posted on http://bhs.unc.edu. Registered participants will also be notified by email.
ADA statement: If you require any of the auxiliary aids or services identified in the Americans with Disabilities Act in order to participate in this program, please call us at (919) 843-6083 no later than ten business days before the program.
TESTIMONIALS
"As a result of the clinical supervision training series offered through UNC Chapel Hill School of Social Work and Behavioral Health Springboard I feel that I have grown as a clinician as well as a clinical supervisor. The information presented was relevant to my current position as a clinical supervisor and I believe it has already been helpful to my supervisees. I would recommend this training series to both new and season clinical supervisors as well as those that are considering providing clinical supervision in the future."
"[The training] was very thorough, full of information, Mike was energetic, compassionate and a true motivator."
"Instructor presented in dynamic fashion this relevant material."
"The training was informative and applicable to my practice. It will help to enhance my practice."
"Mike is a wonderful instructor; very engaging, well spoken, and knowledgeable!"
---
The Clinical Supervision Training Series is supported in part through funding from the Division of Mental Health, Developmental Disabilities and Substances Abuse Services via the Substance Abuse Prevention and Treatment Block Grant at the Substance Abuse and Mental Health Services Administration.
For additional questions about the series contact: bhrp-support@listserv.unc.edu

ATTENTION: For specific requirements to become a Certified Clinical Supervisor contact the NC Substance Abuse Professional Practice Board at 919-832-0975 or www.ncsappb.org (link is external).


DATES, TOPICS, & LEARNING OBJECTIVES
01/26/2019: Session 1 –Clinical Supervision Series: Advancing Clinical Leadership
In today's behavioral health climate, clinical supervisors are relied upon for leadership in all aspects of agency viability. Advancing Clinical Leadership offers the opportunity to explore effective leadership traits, assess your leadership style, and further develop your professional mission. Upon completion of this workshop, participants will be able to:
Discuss an array of leadership styles.
Utilize an organizational assessment tool.
Describe the concept of Mindset and how it impacts clinical leadership.
Offer examples of effective leadership traits.
Apply leadership theory and practice to their role as clinical supervisor.
02/23/2019: Session 2 –Clinical Supervision Series: Evidence-Based Practices & Treatment Outcomes
We explore the pros and cons of using evidence-based treatment models (EBTM), review a handful of these models, and discuss the science behind successful implementation of evidence-based models. In Part Two we look at the research of what works in therapy and examine how Routine Outcomes Monitoring improves treatment response. Upon completion of this workshop, participants will be able to:
Weigh the pros can cons of utilizing evidence-based treatment models.
Describe several EBTM's used in the treatment of substance use disorders.
Effectively implement EBTM's and other clinical models.
Differentiate fact from fiction regarding what works in therapy.
Describe key advantages of Routine Outcomes Monitoring.
03/23/2019: Session 3- Clinical Supervision Series: Theories and Models of Clinical Supervision
This session explores a wide range of clinical supervision models, such as the developmental and blended model, and uses the findings to enhance, transform, or initiate a model of supervision for each participant. Additionally, participants will discuss the theory of addiction and treatment and how one's orientation to these theories influence their clinical supervision. Upon completion of this workshop, participants will be able to:
Discuss several theories of addiction and treatment.
Examine the research on the effectiveness of clinical supervision.
Demonstrate the ability to compare and contrast common clinical supervision models.
Describe the role of parallel process in clinical supervision.
Identify one or more models of clinical supervision that align with your clinical principles and preferences.
Create or enhance your clinical supervision model.
04/27/2019: Session 4 – Clinical Supervision Series: Competencies of Clinical Supervision and Technology-Based Supervision
This session explores contractual and content elements of clinical supervision. We discuss exemplary traits of clinical supervisors, effective means of monitoring and evaluating supervisees, and disheartening conclusions about the state of clinical supervision. Upon completion of this workshop, participants will be able to:
Discuss the research on harmful supervision.
Integrate traits of competent supervisors.
Describe an understanding and the importance of cultural humility as a supervisor.
Implement sound supervision agreements.
Apply formative and summative evaluation methods within the role of clinical supervisor.
05/18/2019: Session 5 - Clinical Supervision Series: Risk Management, Ethics, and Self-Care in Clinical Supervision
This session we review risk management issues, discuss ethical considerations in supervision including the ethics of self-care, and then briefly review the requirements for renewing or obtaining the NCSAPPB clinical supervision certification. Upon completion of this workshop, participants will be able to:
Identify common areas of risk and liability for clinical supervisors and their ethical implications.
Describe the difference between direct and vicarious liability.
Implement and teach ethical decision-making models.
Understand the interplay between the ethics of self-care and the imperative of professional competence.
Be capable of explaining the process and requirements for obtaining and maintaining the NCSAPPB Certified Clinical Supervisor status in North Carolina.
TIMES & LOCATIONS
Each session lasts from 9 a.m.–4:30 p.m. with registration beginning at 8:30 a.m.

UNC School of Social Work
Tate-Turner-Kuralt Building, Room 135
325 Pittsboro Street
Chapel Hill, NC 27599-3550
Coffee will be provided in the morning and lunch will be provided at the midday break.

*To be notified when topics, agenda, and registration are available, please click on our tab above "Join Our Mailing List," and enter your contact information.
For additional training day logistics, please click: What You Need to Know.
For location, directions, and parking please click: Directions & Parking for Clinical Supervision Series.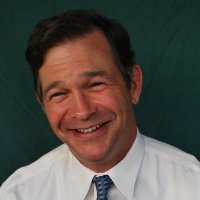 COURSE COORDINATOR & PRIMARY TRAINER:
MICHAEL E. MCGUIRE, LCSW, LCAS, LMFT, CCS, MINT
Clinical Assistant Professor
Director Substance Use & Addictions Specialty Program
Behavioral Health Springboard
UNC School of Social Work
Along with over twenty years of clinical supervision experience, Michael's expertise includes: adolescent and family development, childhood trauma, addictions treatment, experiential learning, working with veterans, motivational interviewing, feedback informed treatment, implementation science, program development, leadership training, and workforce development. He brings this wide range of knowledge and proficiency to engage participants in a self-improvement approach to learning.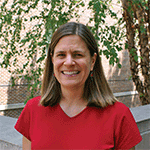 TECHNOLOGY-BASED SUPERVISION TRAINER:
THERESA PALMER, LCSW, LMFT, AAMFT Approved Supervisor
Clinical Assistant Professor
Coordinator of Field Education
Winston-Salem Program
UNC-Chapel Hill School of Social Work
Theresa is a Licensed Clinical Social Worker, Licensed Marriage & Family Therapist, and an Approved Supervisor by the American Association for Marriage and Family Therapy. Her current work involves teaching and field coordinating for the University of North Carolina at Chapel Hill's School of Social Work in the Winston-Salem Program. She also provides clinical supervision to associate-licensed clinicians, consultation to fully licensed therapists, and supervision-of-supervision to individuals seeking to become AAMFT-Approved Supervisors. In teaching as well as providing therapy and supervision, Theresa uses a systems-oriented, strengths-based perspective.