2-Day ASAM Criteria Workshop
Understanding and Applying the ASAM Patient Placement Criteria
The ASAM Patient Placement Criteria is the most widely used decision-making tool for determining the appropriate Level of Care (treatment setting) for persons with Substance Use Disorders and Co-Occurring Disorders.
This two-day, highly interactive workshop takes a deep dive into understanding and using the ASAM Patient Placement Criteria! During the workshop, attendees will use the ASAM PPC book and become familiar with all the information the book has to offer. Additionally, attendees will participate in small and large group exercises designed to assist with learning about the clinical considerations that come together to determine the ideal level of care (treatment setting) to meet a patient's needs. We will also complete at least two case studies that allow attendees to apply their learning to a case scenario.
Proper use of the ASAM criteria requires much more from a clinician than completing a checklist of signs and symptoms—it is a tapestry of identifying a patient's strengths/protective factors, here and now based facts, assessing need and risk in each of the 6 dimensions, knowledge of risk associated with withdrawal from substances of misuse and much more! All of these considerations result in determining the safest and least restrictive environment in which a patient can make decisions about their use and if they choose, with excellent clinical intervention, move into recovery.
Attending this workshop and participating in all of the learning opportunities offered will enable attendees to become more skillful at using the criteria to its fullest.
To be prepared for this two-day, deep dive into the ASAM PPC, please take this pre-test and bring it with you to the first day of training! We will review the answers together and the 'why' of the answers when we meet! Think of the pre-test as a tool for your own use—to measure your current knowledge of the ASAM PPC and as a benchmark for what you would like to learn in the workshop as well as a foreshadow of some of the information you will learn by attending the workshop!
Training Dates: Registration Closing Dates:
December 18 & 19, 2023 December 1, 2023
February 28 & 29, 2024 February 9, 2024
April 25 & 26, 2024 April 5, 2024
June 6 & 7, 2024 May 17, 2024
Virtual Location Zoom platform with hosting by https://bhs.unc.edu
Learning Objectives Participants completing this training will be able to:
Discover the intent, spirit and development of the ASAM PPC
Recognize the resources in the ASAM, 2013 book including considerations for Special Populations and current research implications.
Describe the 6 dimensions of Multidimensional Assessment that are assessed (with a patient) and how they provide a guide for determining level of care placement.
Describe how to determine and rate risk and severity within each dimension.
Identify ASAM-defined levels of care (LOC) and what services and treatment modalities are needed within each LOC.
Practice applying the decision flow to a case and determining a LOC.
Describe the Dimensional and Diagnostic Admission Criteria/Rules for various Levels of Care.
Describe strategies for managing placement disagreement with referral sources or intra-treatment team-Decisional Flow and other ASAM recommendations.
Discuss strategies to identify implementation challenges in their unique settings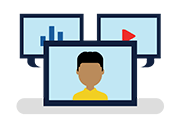 Agenda - Two-Day ASAM Criteria Skill Building Training
Day 1 – 8:30a.m. – 4:30p.m. EST
8:30– 8:45 ------- Introductions; Goals; Pre-quiz
8:45 – 9:45 ------- The intent and the spirit of the ASAM PPC (2013) edition; Identify and use the resources in the book
9:45 10:00 ------- Break
10:00 – 12:00 ------- The Components of the Six Dimensional Assessment
12:00 – 1:00 ------- Lunch
1:00 – 2:45 ------- Determining and rating risk and severity within the 6 dimensions
2:45 – 3:00 ------ Break
3:00 – 4:30 ------- Application of Dimensional Assessment to client cases
Day 2 – 8:30a.m. – 4:30p.m. EST
8:30 – 8:45 ------ Review of Day One principles
8:45- 9:45 ------ Introduce the Levels of Care; discuss the influence of Stage of Change and Medical Necessity on LOC considerations re: client placement
9:45 – 10:00 ------ Break
10:00 – 12:00 ------ What are the Dimensional and Diagnostic Admission Criteria for the Levels of Care
12:00 – 1:00 ------ Lunch
1:00 – 2:45 ------ Apply Dimensional Assessment, the LOC and the Dimensional and Diagnostic Admission Criteria to Client Cases (Managing payer source and/or treatment team/stakeholder disagreements on LOC)
2:45 – 3:00 ------- Break
3:00 – 4:30 ------- Application/Discussion of assessment, placement and intensity of service continues with group discussion; post-quiz
Registration New training dates now open for fall 2023!
Registration fee: $250 per person. Organizations purchasing multiple registrations can buy 3 and get the 4th half off. The registration fee is specific to the dates selected and is not transferrable to a different date. Fee includes 13 contact hours and a hard copy of The ASAM Criteria manual.
Refunds Refunds will be issued up to 2 weeks before the training date.
Requests for Accommodations:
Registrants requiring any of the auxiliary aids or services identified in the Americans with Disabilities Act to participate in our training programs, please contact us by email at bhs-support@unc.edu or by phone at (919) 445-0990 after completing registration to ensure we have enough time to secure the requested services.
Contact for Questions: bhs-support@.unc.edu (919) 445-0990
Continuing Education
Full attendance is required to receive credit; no partial credit will be given.
All participants completing the training will be issued a certificate of completion demonstrating 13 contact hours.
---
NBCC: The University of North Carolina at Chapel Hill School of Social Work has been approved by NBCC as an Approved Continuing Education Provider, ACEP No. 6642. Programs that do not qualify for NBCC credit are clearly identified. The University of North Carolina at Chapel Hill School of Social Work is solely responsible for all aspects of the programs. 13 contact hours
NCASPPB: This course has been submitted to the North Carolina Addictions Specialist Professional Practice Board for up to 13 SS (EBT) contact hours. Approval #: 23-573-S
---
Registration Confirmation Notices and Certificates of Completion:
Registration fee is $250, and participants must register at least 2 weeks in advance of the training date to attend. We will confirm your registration by email. Successful completion includes being logged in and virtually participating for the entire two days. Immediately after the training concludes participants will receive an email notifying them of the process and the manner, they will gain access to the evaluation and the certificate of completion for the training. The Certificate of Completion email will go within 5 business days after the training concludes to participants who met the time requirement listed in the continuing education policy based on the length of the training. Fees include credit hours, a hard copy ASAM manual, and training material.