Dan Cheron, PhD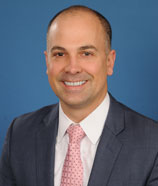 Dr. Dan Cheron is the Vice President of Programs, Implementation, and Training at Judge Baker Children's Center. He is a licensed psychologist and is Board Certified in Clinical Child and Adolescent Psychology. He graduated from Boston College with a B.A. in Psychology. Dr. Cheron received his Ph.D. in Clinical Psychology from Boston University, where he worked extensively researching and treating anxious children and adolescents at the Center for Anxiety and Related Disorders (CARD). He completed his pre-doctoral internship at the May Institute in their community-based Behavioral Health Services Division.
Dr. Cheron came to Judge Baker Children's Center in September 2010 to complete his postdoctoral fellowship with John Weisz, Ph.D., ABPP, where he worked on multiple grant-funded projects investigating the effectiveness of evidence-based treatments for youth with anxiety, depression, disruptive behavior, and traumatic stress in community mental health clinics across New England. He now continues his work at Judge Baker Children's Center as Vice President of Programs, Implementation, and Training. Dr. Cheron currently oversees multiple initiatives supporting large agencies, countries and states to improve youth mental health service delivery through the training and dissemination of evidence-based treatments to youth mental health providers in the communities surrounding Boston. He also oversees the development and utilization of progress monitoring systems to inform psychotherapy practice.
Dr. Cheron specializes in the assessment and treatment of youth anxiety disorders and traumatic stress, and he has significant experience in the use of empirically-based interventions for depression and disruptive behavior problems in children and adolescents. He is the author and co-author of multiple journal articles and book chapters on the topic of anxiety disorders in children and he lectures to local schools and parent organizations about youth mental health treatment. Dr. Cheron is an active member of the Association for Behavioral and Cognitive Therapies (ABCT) and regularly presents his research at annual conferences.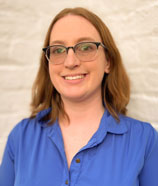 Kristina Turner
Kristina is a graduate of the College of William and Mary and Temple University, where she received a master's degree in Applied Behavior Analysis. Kristina has been practicing as a BCBA in Virginia since 2013, in homes, centers, private schools, and group homes. Kristina believes to serve an individual, you have to serve the whole family and keep trauma-informed practice at the forefront of each decision. Kristina is the Director of ABA at Intercept Health and is also a native of Staunton, Va.
Dr. Angela M. Tunno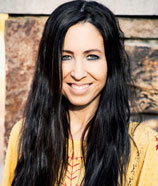 Angela M. Tunno, Ph.D., M.S. is an Assistant Professor and Licensed Clinical Psychologist at Duke University School of Medicine, the National Center for Child Traumatic Stress, and the Center for Child & Family Health. She received her doctorate in Clinical Child Psychology at the University of Kansas and her Master of Science in Applied Clinical Psychology at the University of South Carolina-Aiken. She also completed a fellowship at the Centers for Disease Control and Prevention (CDC), Division of Violence Prevention (DVP) where she helped develop and disseminate national prevention efforts focused on community violence and child maltreatment.
Dr. Tunno's areas of specialty include clinical, research, advocacy, and social justice efforts focused on the impact of trauma and systemic inequities for children, youth, and families. She has a specific clinical and research focus on the intersection of trauma exposure and high-risk behavior (e.g., suicidal thoughts/behavior, substance use). Her clinical practice is informed by evidence-based approaches, such as Cognitive Behavioral Therapy, Trauma-Focused Cognitive Behavioral Therapy, and Dialectical Behavior Therapy with a foundation in the power of incorporating strengths and methods of healing for adults, families, and youth from different backgrounds into a holistic approach to treatment. Collaboration; partnering with youth, families, and adults; and cultural humility are at the foundation of her clinical, research, systems, and community work. She values true partnership and the importance of community-led efforts to build collective methods to prevention and intervention.
Nicole Croteau-Johnson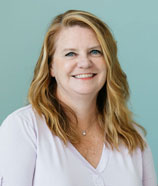 Nikki Croteau-Johnson, MA, LPA, is a psychologist with over 20 years of clinical experience working with children, adolescents and their families in outpatient and forensic settings. She has specialty training in several evidence-based treatments, including, TF-CBT, PSB-CBT-S and PSB-CBT-A. She is currently the Clinical Director for the Problematic Sexual Behavior Program for Children and Adolescents at the North Carolina Child Treatment Program, where in addition to providing direct clinical services, she oversees the implementation of a statewide PSB program; developing a clinical workforce as well as clinical policy and procedures; stakeholder education and engagement, and other sustainability initiatives.