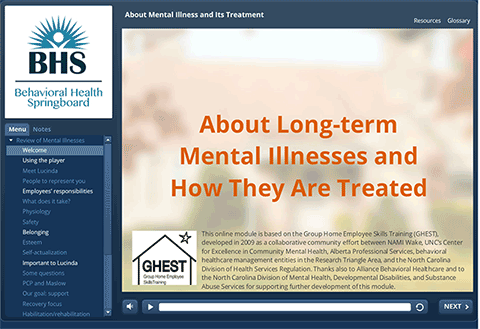 GHEST has been developed to provide group home employees with basic information about long-term mental illnesses and basic skills for working with the people who have these illnesses and work in group homes.
Module 1: About Long-term Mental Illnesses and How They Are Treated
Here's what you will learn:
What is necessary for people to live the best life possible?
What is long-term mental illness?
What causes it?
What types are there?
How is it treated?
What gets in the way of treatment?
How can one help people stick with treatment?
Target audience: While this training was created for non-licensed direct care workers in group homes, it is also appropriate for Peer Support Specialists, people with long-term mental illness and their loved ones, and for the general public.
This online module is based on the Group Home Employee Skills Training (GHEST), developed in 2009 as a collaborative community effort between NAMI Wake, UNC's Center for Excellence in Community Mental Health, Alberta Professional Services, behavioral healthcare management entities in the Research Triangle Area, and the North Carolina Division of Health Services Regulation. Thanks also to Alliance Behavioral Healthcare and to the North Carolina Division of Mental Health, Developmental Disabilities, and Substance Abuse Services for supporting further development of this module.
NOTE: You will need to login to access this online training.