Please Login
<< You will need to login to register for BHS training events and online courses.
Continuing Education Key:
| | |
| --- | --- |
| ASWB ACE = | Association of Social Work Boards Approved Continuing Education |
| NBCC ACEP = | National Board for Certified Counselors Approved Continuing Education Provider |
| NCCPSS = | North Carolina Certified Peer Support Specialists |
| NCSAPPB = | North Carolina Substance Abuse Professional Practice Board |
Please check back as more trainings are being planned.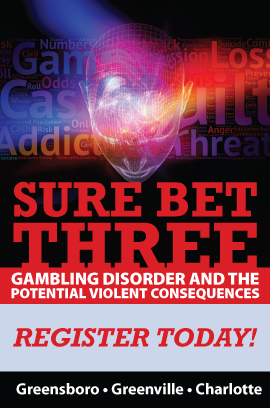 When compared to other addictions, Gambling Disorder can arguably be looked at as an "underserved population," resulting in noticeably lower awareness levels and treatment options. Yet gambling addiction has been linked to higher rates of suicide and potential violence. These violent consequences must be considered when intervening and treating Gambling Disorder to protect those suffering from the condition as well as their families and our communities at large. This training is designed to educate clinicians regarding the potential connection of Gambling Disorder to violence and to equip them with the necessary treatment knowledge when considering the dangers of compulsive gambling behaviors.
Completion of this training will meet one of the requirements necessary for the NCPGP Provider Registry. Participation in this training does not assure that a provider will be selected for the NCPGP Registry, but it is a required component of becoming an NCPGP provider. Participants must attend 100% of the program to receive credit. Partial credit will not be given.
LEARNING OBJECTIVES
At the conclusion of this activity, the participant should be able to:
Describe the brain functioning related to Gambling Disorder
Explain the potential connection between gambling addiction and violent behaviors
Recognize the warning signs of potential violent and dangerous behaviors of a compulsive gambler
Describe effective treatment interventions of gambling disorder and impulsive behaviors
TARGET AUDIENCE
​Mental health professionals including psychologists, clinical social workers, licensed professional counselors, marriage and family therapists, addictions counselors, pastoral counselors, school counselors, clergy, school administrators, recreational therapists, peer support specialists and all those interested in learning about problem gambling.
REGISTRATION
$15 registration fee for the one-day event. Pre-registration is required and registration fees are due on or before the program date unless your organization is paying the fee as authorized by your supervisor on the registration form. No refunds will be issued. Fee includes credit, lunch, refreshments and handouts
CONTINUING EDUCATION
The UNC Chapel Hill School of Social Work has been approved by NBCC as an Approved Continuing Education Provider, ACEP No. 6642. Programs that do not qualify for NBCC credit are clearly identified. The UNC Chapel Hill School of Social Work is solely responsible for all aspects of the programs. 6 contact hours
The University of North Carolina at Chapel Hill School of Social Work, #1406, is approved as a provider for social work continuing education by the Association of Social Work Boards (ASWB) www.aswb.org, through the Approved Continuing Education (ACE) program. The University of North Carolina at Chapel Hill School of Social Work maintains responsibility for the program. ASWB Approval Period: 08/10/2016 – 08/10/2019. Social workers should contact their regulatory board to determine course approval for continuing education credits.
Social workers participating in this course will receive 6 clinical continuing education clock hours.
NCSAPPB Approval # Pending submission/approval. 6 hours SS
Confirmation Notices and Certificates of Completion: We will confirm your registration by email after payment is received. Successful completion includes full attendance for the entire day. Within 7 days of the conclusion of the event, you will receive an email notifying you that the evaluations and certificates are ready. The email will include a link to https://bhs.unc.edu where you can login using the username and password you chose at registration. Once you have logged in, you will see the training titles listed under "My Courses" on the left side. After clicking on the link, you will be taken to another page where you can click the link to the event evaluation. Once you have completed and submitted your evaluation, you can click on the link to access the Certificate of Completion. Your Certificate will emailed to you as a PDF document.
POLICIES & ADA STATEMENT
Refund Policy: No refunds will be issued for this event.
Inclement Weather Policy: Varies by location
ADA statement: If you require any of the auxiliary aids or services identified in the Americans with Disabilities Act in order to participate in this program, please call us at (919) 843-6083 no later than ten business days before the program.
---
Contact for questions: Theresa Flores, tflores@unc.edu 704-609-6096
DATES & LOCATIONS
AGENDA
Registration 8am – 8:30am
Training: 8:30am - 12:00pm
Lunch (provided) 12:00pm – 1:00pm
Training: 1:00pm - 5:00pm
​REGISTRATION is a $15 fee for the one-day event. Pre-registration is required and registration fees are due on or before the program date unless your organization is paying the fee as authorized by your supervisor on the registration form. No refunds will be issued. Fee includes credit, lunch, refreshments and handouts.
DIRECTIONS & PARKING vary by location and are provided.
ROBBY FUQUA, LCSW, PCGC, ICCGC
Robby Fuqua is an experienced LCSW that has served in several different roles for BDA | MS. Previously as an EAP account manager with BDA|MS, Robby provided utilization reporting, consultative services, and assisted human resource departments to promote EAP awareness in the workplace. As a EAP counselor, Robby provided counseling/onsite trauma/crisis intervention services, management/mandatory consultations and other case management responsibilities. Robby's EAP training experience includes presenting curriculum that covers a wide range of mental health and wellness subject matter to several companies in many different industries.
As a clinical associate, Robby worked as part of the C2C team providing counseling services to compulsive gamblers. Robby also conducted assessments, referral services, and other case management functions for several different state funded problem gambling helplines. As a clinical trainer, Robby provides training programs for clinicians to treat compulsive gambling disorder in Illinois and North Carolina. Robby also collaborates with the Mississippi Council of Problem and Compulsive Gambling and the Mississippi Gaming Commission to educate casino staff across the state of Mississippi by providing Responsible Gaming training. Currently as the Training & Program Manager of the Responsible Gambling Department at Morneau Shepell, Robby provides training services for 13 different clients across North America.
Prior to BDA | MS, Robby interned & worked as a Crisis Clinician at South Shore Mental Health in Quincy, Massachusetts. He also interned as a clinician and case manager at Volunteers of America in Boston, Massachusetts. Robby has a Bachelor's in Business Administration from the University of North Texas and a Master's degree in Social Work with a Mental Health concentration from Boston College.